There are countless examples high-performing influencer marketing campaigns across the net and each one shines in a different way. However, they all have one thing in common; each excels in at least one area of influencer marketing best practices. We've highlighted five recent influencer marketing campaigns that generated real results for the brands behind them and broke down the areas brand nailed, so you can leverage the same powerful strategies in your own campaigns.
Fiji Water's Bodyworewhat Campaign
Water is one of the most plentiful resources on the planet and there are more companies producing bottled water than you can count. That means companies within the niche really need to be creative to stand out from the pack. Fiji came up with a serious winner by partnering with fashion blogger Danielle Bernstein who runs 'We Wore What' and personal trainer Eric Johnson for their influencer marketing campaign, aptly called Bodyworewhat. The duo created a series of short workout videos which were shared on social media alongside images of a very svelte Bernstein in Fiji workout clothes. The videos have been viewed hundreds of thousands of times. Similar creative strategies have been leveraged by Vensy clients with great success, but if you're short on ideas, our team can create unique content for you.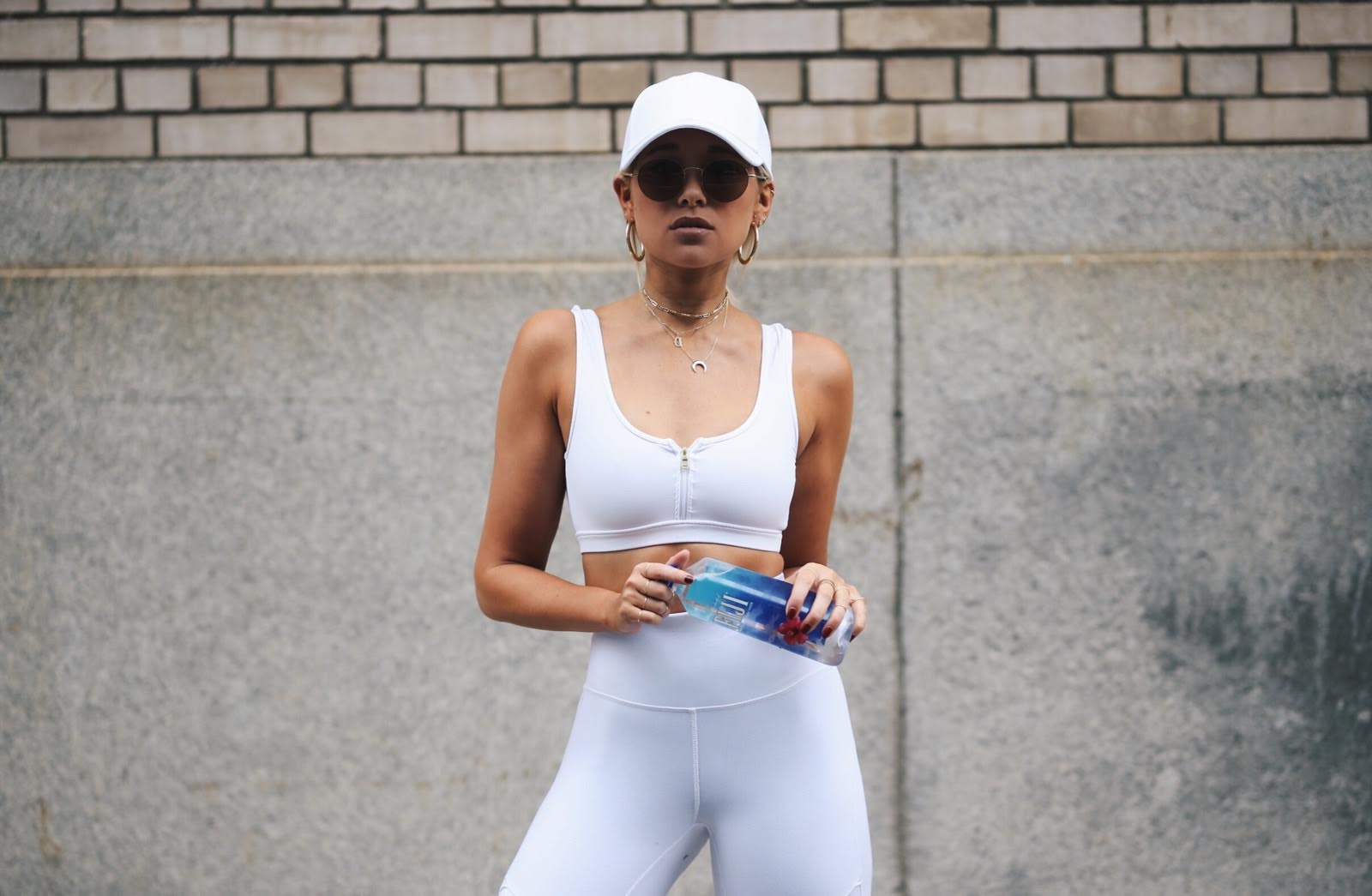 Danielle Bernstein of WeWoreWhat in the Fiji Campaign.
Dyson's Airwrap Activation
Most people hear the Dyson name and think "vacuums" or household appliances, and it's a fair connection. After all, the brand's only real foray into the beauty market was the Supersonic Hairdryer released in 2016. When Dyson released its Airwrap curling device near the end of 2018, it needed to overcome its own background and address several key areas with its marketing. First, Dyson had to find a unique way to educate the public. Their new curling device is not a traditional curling iron, but uses the Coanda effect, or high-powered air forcing hair to curl itself around the barrel, and low heat to create the styles, thus resulting in waves and curls without the high levels of heat other curling irons use that can damage hair. The tech was a major investment for the company, taking six years and more than £25 million in development costs. Secondly, Dyson needed to reach a very specific audience: working women ages 25-35 with disposable income… serious disposable income. The Airwrap retails for about £400-450.
One of Vensy's key campaign focuses is tailoring the creative strategy and messaging to each influencer's tone and audience. When this is paired with finding the ideal brand and influencer audience match, it's a winning combination every time, and that's exactly what Dyson did. They connected with all sorts of women who, not only fit their mould, but had audiences within the demographic subset too. They had those women use the product, then share their findings in an authentic way. Videos were king, but written reviews emerged too. Their influencer marketing campaign was a hit—Dyson sold out of the Airwrap.
There was only one "issue" with their strategy. The company made a point of connecting with women of all sorts of ethnicities to demonstrate that the product works well for a wide range of hair types. However, when the brand partnered with Gizmodo, it refused to work with a model who had 4B type hair, which is distinct from others because of the unique coil-style curls it forms. Dyson explained that the logic behind the decision was sound; 4B hair typically requires higher heat and additional tools which were unavailable for the session.
"One of Vensy's key campaign focuses is tailoring the creative strategy and messaging to each influencer's tone and audience. When this is paired with finding the ideal brand and influencer audience match, it's a winning combination every time, and that's exactly what Dyson did."
Unfortunately, the damage was done. Readers immediately caught on that the lack of representation specifically excluded Black models, despite the general inclusiveness of the campaign. Ergo, there's enough evidence to show that Dyson identified who could benefit most from their new product and mindfully worked with individuals who could share their positive experiences with their targeted audiences. At the same time, they unintentionally excluded a group and the consequences of this reverberated through online communities as a whole. That in mind, there's a lesson to be learned here. Authentic targeted content and is powerful, effective, and should be leveraged, but don't take it so far that you're excluding people. For Vensy, diversity, in language, cultures and backgrounds is essential.
Stylist, Jen Atkin, trials the Dyson Airwrap curling iron.
Coca-Cola's #RefreshtheFeed Campaign
Global household name Coca-Cola pulled out all the stops for World Kindness Day 2018. The company has always focused on creating a joyful brand image, so the concept was a natural fit for their #RefreshtheFeed campaign. This time, however, they partnered with four well-known street artists who embody the company's core values. Together with Coke's in-house design team, nearly 100 pieces of positivity-centred content were created. They also rallied a handful of micro influencers to round out the campaign. Everyone shared their art on their respective channels and the company made a plea to its 8 million followers spread optimism (in the form of their content, of course) in honour of the day. Although Coca-Cola is a mega brand with a huge following, the concept of leveraging both macro and micro influencers is something Vensy recommends to brands of all sizes, simply because it can be done at scale and makes it easier to target niche fans and spread awareness.
HiSmile's Ongoing Influencer Campaigns

The importance of data cannot be overstated, which is why Vensy's smart AI tech provides all the data modern marketers need to make intelligent decisions before launching a campaign and analytical data that allows brands to measure their success and improve the effectiveness of their campaigns over time. Australian startup HiSmile knew it had to beat the odds to get noticed, so it turned to data. The company not only had a very modest marketing budget, but was entering a crowded niche—at-home teeth whitening. The company grew from its initial self-funded $20k investment to a $40 bustling million business by leveraging influencer marketing.
We have to go back to 2016 to see how HiSmile got its start with data-driven campaigns. That's when the company began working with micro influencers because it gave them the opportunity to experiment with different audience types, reach more people, and stay within their budget. Once they hammered out what makes for a successful campaign and began generating serious revenue through influencer marketing, they started working with macro influencers too. The activations resulted in 100,000 new customers for the brand, but they didn't stop there. They've continued working with macro and micro influencers to grow their brand exponentially and for each new activation and ongoing marketing needs, with each fresh micro influencer video netting them 1,000-2,000 more likes and introducing their brand to an even wider audience and some of the macro influencer content creating engagement with more than a million people. 
Nature Made's #HealthyTogether Campaign

The vitamin producer Nature Made combines the best of all worlds in its #HealthyTogether campaign. The concept was kicked off by a consumer survey which revealed the barriers people face when trying to live healthier lifestyles. While 77% say busy schedules thwart them, more than 60% believe they're more successful when they have a real-life wellness partner. Nature Made delivered in the form of micro influencers from an array of backgrounds, such as a health and wellness expert, mommy blogger, and foodie.
Each influencer was provided with key stats from the survey to kickstart conversations with their respective audiences and was asked to put together customized health packages they thought their audiences would love and would give a boost in terms of sticking to their healthy routines, which were then leveraged in giveaways. The brand had influencers craft authentic content, using a mix of photos and videos to create engagement and build trust, resulting in more than one million engagements overall.
Create Your Own Powerful Influencer Campaign

While Vensy did not represent any of these brands or influencers, we know a good strategy when we see one because we leverage the same practices in our own campaigns. The difference is, we also have a slick AI platform that helps brands match with the right influencers for their message and audience, plus offer end-to-end solutions that ensure an effective campaign every time. Learn more about how Vensy works and explore your influencer marketing options at Vensy.co.uk.
Looking for highlights and actionable insights from each article? Subscribe to our newsletter